I have not placed any life forms (artificial or otherwise) in the pond. At this stage I am curious to see what shows up on its own.
Technically, the first animals drawn to the pond we typically see in our back yard, but at night they are all around the pond edge. Come morning, I find these deere tracks everywhere:
The first creature I know was in the pond was a bullfrog. In the middle of the day he was hanging out around my fish structure. I could hear him loud and clear, but never did locate him visibly (shifty little frog).
The next critters to show up were also right in the middle of the day. They can sometimes be found wearing shorts, making messes in and around houses, and sometimes make very loud noises. We were lucky to catch them with the camera: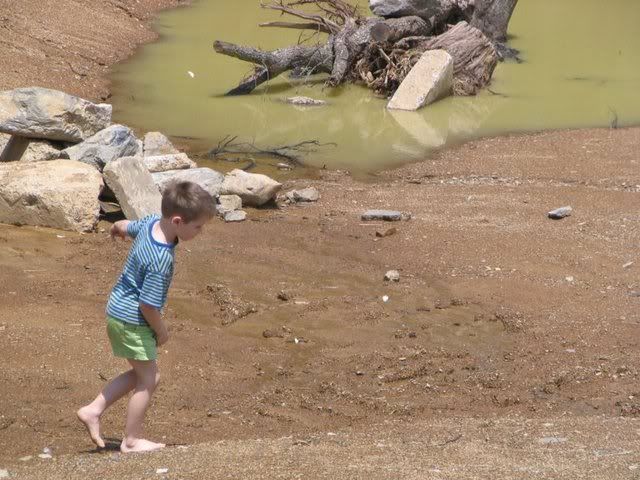 I have a feeling this particular species will take over the pond once it is full, as they are known to love wading, splashing, swimming, fishing, and having fun in water.
My wife was the first to discover the arrival of dragon flies. She caught them laying eggs on the water. Personally I like dragon flies. They remind me of fishing, since they would often decide to land on the end of my pole and just sit there. They are friendly little insects with the most fascinating wing and flight design. More evidence that our Creator loves to design things in various and sundry ways:
I have observed a number of wild turkeys living down the road near a creek that drains our immediate region's watershed into the Opequon River. I began to suspect that they were visiting the pond at night based on the tracks. Today I found a turkey feather in the pond basin. Even more interesting was the adult and baby turkeys which we managed to photograph in our backyard today. Since they require water for eating, I have a feeling we will be seeing more of them in the vicinity of the pond in the future; but you have to be fleet of foot and look quick because they are pretty wary creatures: