Well, the final steps of rough work were nearly done and none too soon.
I had to return the rental dozer soon, so now was the time to cut my overflows on each side of the dam: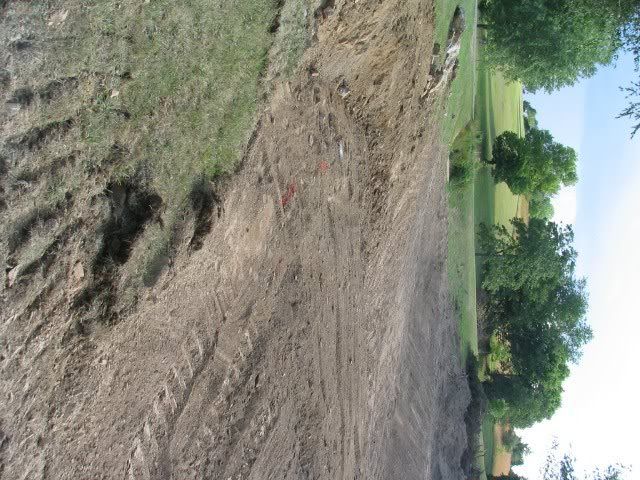 It is a little hard to explain, but basically when the water reaches a certain level, it will follow the overflows, which are sloped away from the dam back into the virgin soil cut out from the hill sides. I picked this approach up from reading pond expert and author Tim Matson. The red lines represent the full water line shot with my level. Since then, I have lined the hillside with large stones and have also heavily seeded and strawed this whole area. I am going to wait and see what it looks like later, but I may also line it with some rip-rap or a bit smaller rock.

Before I had an opportunity to get some seed and straw down, it rained a couple times. As you can see, the water held well. It is still there, minus a little bit of evaporation: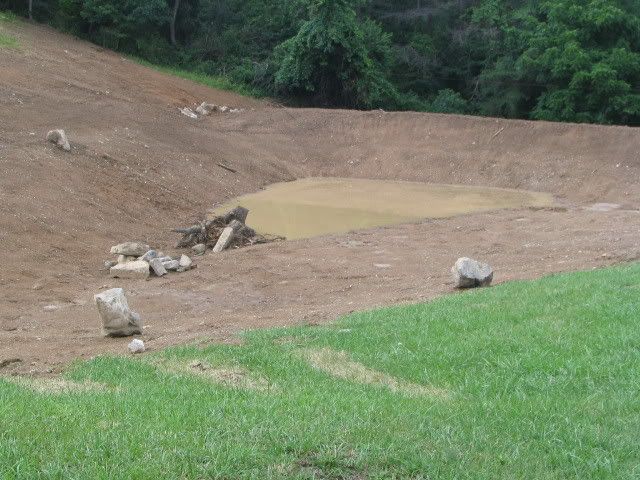 I now turned to fish structure. The trees I had to take out and all the boulders that I didn't use to line the overflow area came in handy. Some of these materials also found its place up on the bank where it is quite decorative:

Now it was time for seed and straw. It was pretty hot when I put it all down.
I bought 100lbs of fescue/rhye mix and about 15 bales of straw. All that was finally spread and covered. I could have been done sooner I suppose, but some other things came up that needed attention. Also, I never look forward to spreading straw--I spent a lot of time working in blistering hot barns stacking it non-stop off the hay elevator as a kid. Probably some Pavlovian behavioral response on my part now as an adult
:

Now I am just watering the seed until it is established, waiting for rain to come and fill the pond.


Anyway, the latest addition to the oversight committee appeared happy with the work, and that is important:



Of course, there were six others . . . .


On the other side of the driveway culvert is an old hand-dug well and watershed spring. There are some really nice trees as well. My plan is to put a second pond there (a bit smaller). Phase three will be to dig out the driveway in between the two and connect the two ponds. I then want to put a covered bridge across the expanse. I want to model it after the old New England style from the 19th century (hopefully).

It would be nice to do a small version of this one in Newfield, NY. It is the only one from the 19th century being used in NY, and we used to live just down the road from it when I was little kid:

I can't remember where I found this online, but it is more to the size and design I am interested in actually doing: