As mentioned earlier, I hit the dreaded Weikert shale in one strip adjacent to where the ground eroded from the seasonal run off down the middle. The best plan would have been to immediately cover it with clay, but I had to go deeper in this particular location. Here is where renting a larger dozer would have been nice, but the finish dozer still did a good job. The trick was to get the edge of the blade angled down, and to move downhill and across. It is hard to explain, but it worked well and dug the shale deposit right out. This was encouraging since the guy who came with the backhoe to dig the test holes could barely pierce the stuff.

I was a bit nervous at this point since hitting hard-pan or other subsurface base of this nature isn't the best route to ensure a sealing pond (which was my original concern to begin with). However, here is where the unexpected bonus of a nice deposit right in the basin of both pure grey clay and a rich mixture of clay and dirt paid off nicely. I had enough to completely smother the shale area I had excavated . . . in fact, I had enough to line the entire basin of the pond fairly deep.

Here you can see more compaction of this clay with the tractor: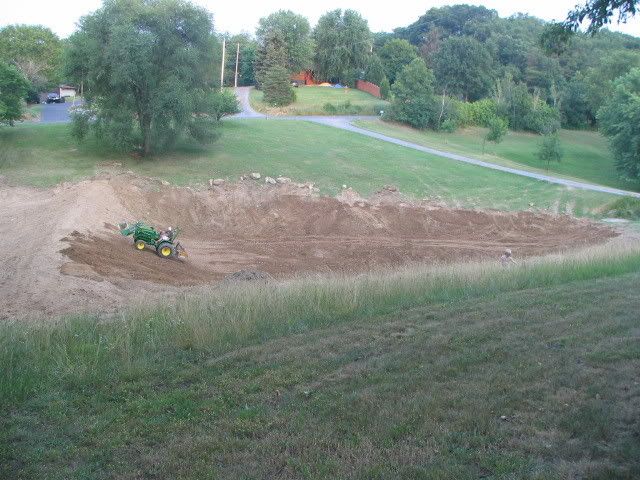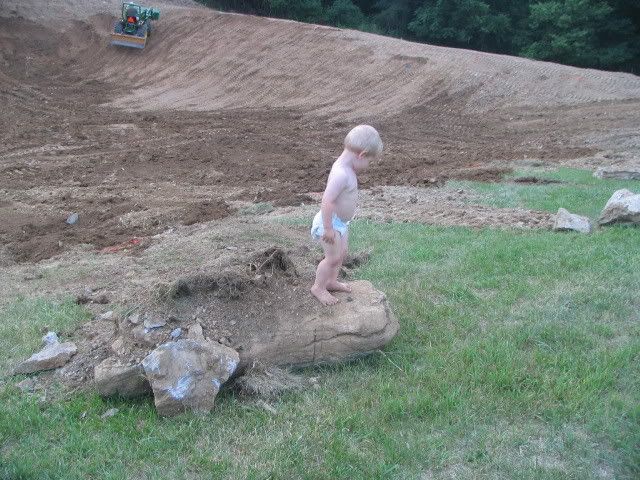 I had to use the tractor's brakes so much while compacting that some liquid was oozing out some overflow holes in the rear axle. I thought I had heated them so much that the gasket behind the brakes shoes had failed allowing transmission fluid to leak. I pulled the covers and discovered that the rotor had gotten hot enough to actually cause whatever factory grease was in there to become runny. I redressed the shoes and rotors, cleaned everything up real good, and put it back together. Everything was fine after that. I wasn't looking forward to pulling those seals.

As I was compacting this clay, sometimes the sun would take too much moisture out and I would have to hose it down. Everyone around quickly discovered to beware of six-year-old's with water hoses!